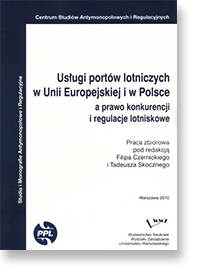 The fifth publication of the 'Antitrust and Regulatory Studies and Monographs' series has been based on a final report of a research project conducted in 2009 by a team of researchers from the Faculty of Management, University of Warsaw, and specialists from the 'Polish Airports' State Enterprise.
The book concentrates on selected legal and economic problems connected with the functioning of airports. These problems are analyzed from a perspective of international, EU and national competition law and regulations specific for air transport and its infrastructure.
The publication consists of five parts divided into fifteen chapters. The first part presents preliminary issues, it identifies basic areas of airports regulations and outlines the main research presumptions and scope of the research conclusions included into the book. The second part concerns the definition of markets of airport services in the context of Polish and EU case law experiences. The third part of the book is dedicated to applying national and EU competition rules to activities of entities that manage airports and provide services connected with the functioning of airports; in this context, the application of all categories of competition rules is analyzed: prohibitions of practices restricting competition, rules of preventive control of concentration and rules of state aid. The fourth part of the book concerns regulatory conditions for providing airport services in the EU and Poland – authors analyze problems arising from a distribution of traffic between airports, airport charges, slots, ground handling, environmental protection and noise. The fifth part presents country reports concerning relations between airports ownership and management in Great Britain, Spain, France, Germany and Portugal.
See the English version of contents and preface in the information volume linked above.